Sans Soucy Vineyards
1571 Mount Calvary Road
Brookneal, VA 24528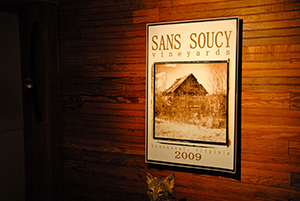 Guests at Sans Soucy enjoy and return to the sweeping vineyard and quaint tasting room because it is comfortable and welcoming. A fireplace warms the tasting room in the winter, and cool evening breezes make our tasting room terrace overlooking the vineyard quite relaxing. Whether enjoying our wines inside or outside, guests enjoy our relaxed, un-hurried nature. It's how wine tasting should be!
Our personal approach to the winery operation is evident from the start- our twice-daily tours of the vineyard and winery are given by family- often the winemakers. Sans Soucy wines take center stage in the tasting room. The friendly and knowledgeable Anctil family is enthusiastic to present visitors with wines from the Sans Soucy portfolio. In addition to our wines, we also offer Panacea Cigars for wine pairing. Sans Soucy Vineyards is part of The SoVA Wine Trail and The Virginia Wine and Cigar Trail.
To learn more about Sans Soucy, visit www.sanssoucyvineyards.com.